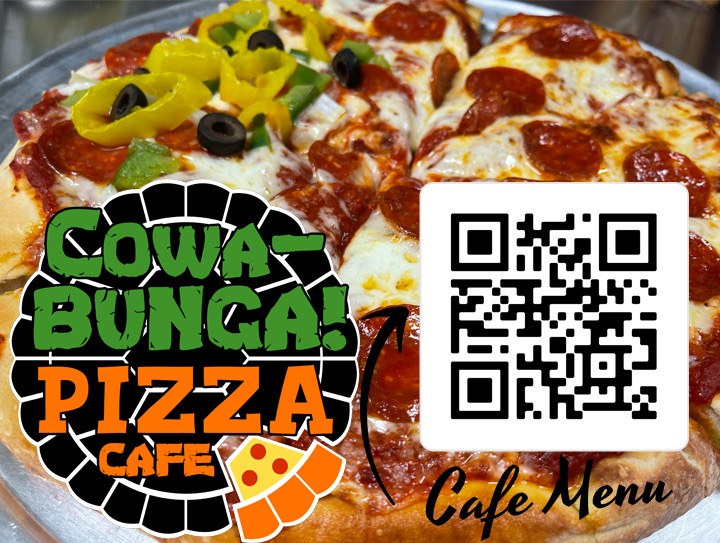 Welcome to Cowabunga Pizza Cafe, where you can find delicious food and a fun environment for the whole family! We take pride in offering a variety of menu items that are sure to satisfy everyone's appetite.
Our pizza is the star of the show, with hand-tossed dough and fresh ingredients that make every slice a mouth-watering delight. Choose from a variety of toppings, including classic pepperoni, sausage, and mushroom, or try something new like our BBQ chicken pizza or supreme delight.
If pizza isn't your thing, we also have a selection of sandwiches and salads that are perfect for a lighter meal. Our Adult Grilled Cheese and Antipasto Salad are customer favorites, but you can't go wrong with any of our options.
Looking for some fun concession foods to snack on while you're enjoying the atmosphere? Try our nachos, hot dogs, jumbo pretzel, chips, popcorn, or cotton candy. And don't forget about our fountain drinks, available in small, medium, and large sizes for all your Coke product cravings.
Hosting a party in one of our private party rooms? Our party room platters are the perfect solution for feeding a hungry crowd. Choose from chicken strips, subs, wraps, macaroni and cheese, chip platters, cupcakes, a sundae bar, and more. And with our full bar, including beer and wine options, the parents can relax while the kids play for hours.
We encourage families to make Cowabunga Pizza Cafe a regular dinner option. With our delicious food and fun environment, it's the perfect family dinner destination. Come visit us and see for yourself why Cowabunga Pizza Cafe is the place to be!
Follow this link to view our current menu!